India is full of surprises.
When you think you've explored the vast expanses of this breathtaking country, been bedazzled by its numerous hues, and experienced its delightful chaos, there's always something unexpected to sweep you off your feet. Indeed, there are many secrets that India hides, but also generously reveals them to the intrepid and curious explorer.
Consider yours truly. I was born and brought up in India but it was only in my early thirties that the wildlife bug bit me (pun intended!) and I realized that India was a treasure trove for those who seek creatures large and small in their sojourns. Now, I go back and explore the less surveyed parts of my country for wildlife with a fervor that would have made Kipling proud.
And if you're anything like me, or Kipling, you're longing for and ready to be wooed (all over again, or for the very first time) by India's immense biodiversity, one of its most notable aspects being the charismatic megafauna – tigers, elephants, leopards, rhinos and wild asses.
But we're talking about surprises, and this next fact about India's wildlife has induced gasps of amazement among many of my North American friends –
outside of Africa, India is the only country that is home to lions in the wild!
Lions resting © Ankur Khurana
Once ranging in large numbers from Turkey to eastern India, Asiatic Lions were hunted to the brink of extinction nearly a century ago – only 15 remained in 1913. Intense conservation efforts, the use of modern tracking technology and community participation have led to the resurgence of these mighty beasts. Still deemed endangered, a small population of nearly 700 lions exists in and around Gir National Park in Gujarat – the only place on the planet where you can hear the spine-chilling roar of a free-roaming Asiatic Lion!
Gir National Park
Asiatic Lion portait © Ankur Khurana
Smaller than their African counterparts (but not by much!), these apex predators weigh between 180 and 200 kilograms, on average, and easily bring down large prey such as the Nilgai (Blue Bull), Chital (Spotted Deer), and Wild Boar. Compared to the male African Lion, the male Asiatic Lion is more solitary and prefers to spend less time with the females and the cubs. Apart from the smaller size, a prominent feature that distinguishes the Asian male lion from his African cousin is the smaller mane and a distinct fold of skin that runs down his belly.
Asiatic Lion © Ankur Khurana
My last tryst with this magnificent predator was in 2019, when I was visiting family. I still have vivid memories of photographing a mating lion couple with trembling hands as a Tickell's Blue Flycatcher perched on a branch above and a sleepy Spotted Owlet viewed proceedings with a look that conveyed part disdain and part amusement. Another notable moment for me in Gir (pronounced "Gear") was when I came across a Leopard stalking a Chital!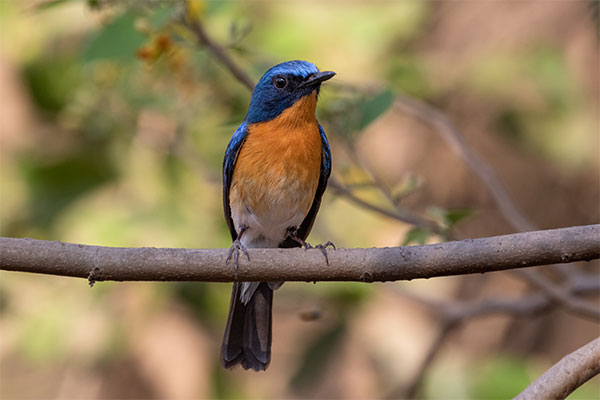 Tickell's Blue Flycatcher © Ankur Khurana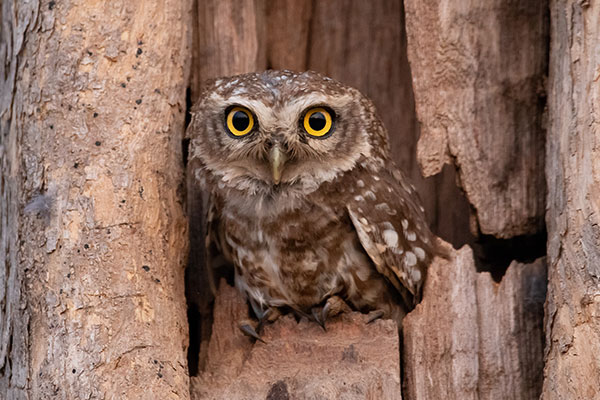 Spotted Owlet © Ankur Khurana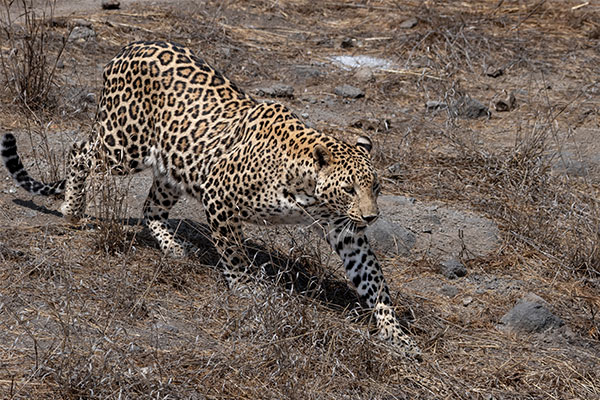 Leopard © Ankur Khurana
You have the opportunity to see these and several other magical creatures in India's many varied natural spaces if you join us on the
India's Great Northwest
tour that runs from February 20 to March 11, 2024.
The inimitable
Chris Earley
and our fantastic Indian naturalist
Payal Mehta
will help you experience the wonder and beauty of India's flora, fauna and varied wild places, while also helping you understand the vibrant cultural tapestry you will encounter during your travels across this fabled land.