All webinars are free to join and take place at 2:00 Eastern Time. If you cannot attend at the scheduled time, please register anyway in order to receive the recording afterwards. You can watch at a time that's convenient for you! Scroll to the bottom to see past webinars and their recordings.
Thursday, April 2 at 2:00PM ET: Spanish Baroque in Madrid |
Register here
Visit the Museo del Prado to see the paintings of Velázquez, Ribera and Goya. Manet was so amazed by seeing Velázquez at the Prado that he wrote to his friend Fantin-Latour back in Paris, "After this none of us are painters."
Monday, April 6 at 2:00PM ET: A Naturalist in Mauritius: A Research Travelogue with Patrick Moldowan |
Register here
Join Patrick Moldowan, Quest Nature Tour leader for a research travelogue that will whisk you off to the western Indian Ocean. As a recipient of Wildlife Preservation Canada's New Noah scholarship, Patrick was involved with intensive species conservation efforts in Mauritius. The island is home to a diversity of unique flora and fauna and present-day conservation efforts are ensuring that they do not go the way of the Dodo. Patrick will share insights on the natural history of Mauritius and his experiences in conservation.
Thursday, April 9 at 2:00PM ET: Dutch Golden Age in Amsterdam |
Register here
Visit the Rijksmuseum to see the paintings of Rembrandt, Vermeer, Hals and Leyster. Visit Rembrandt's house to see where the great painter lived and worked.
Tuesday, April 14 at 2:00PM ET: Feed the Birds with Chris Earley | Register here
As many of us are staying home more than normal, watching backyard birds is a great way to connect with nature and reduce stress. Join Chris Earley for this webinar as he talks about the contents of his latest book, Feed the Birds. He will cover favourite foods, the best feeders, how to keep birds safe and what cool bird behaviours to watch for in your backyard or local park. Ask your burning bird questions at the end of the talk!
Thursday, April 16 at 2:00PM ET: Belle Époque in Paris |
Register here
Visit the Musée du Louvre and the Musée d'Orsay to see masterpieces of neoclassicism, romanticism, realism and impressionism. Along with works by famous figures such as David, Ingres, Corot, Monet and Degas, you will also see by pictures by some underappreciated artists: the African-American French Académie-trained painter Henry Osawa Tanner, Cecilia Beaux and Mary Cassatt.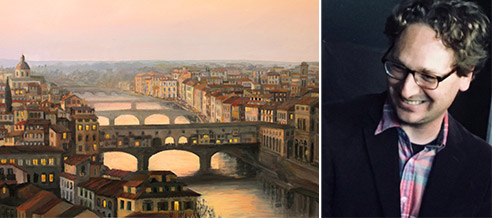 Renaissance Florence |
COMPLETED:
Watch the Recording
HERE
(50 min., followed by Q&A)
Visit the Gallerie degli Uffizi, the Accademia, and beautiful churches such as the Duomo, Santa Maria Novella and Santo Spirito. See the artwork of Giotto, Brunelleschi, Donatello, Masaccio, Michelangelo and others.